I honestly can't get enough of
Aurora Wings
flower sprites. I find myself reprinting and recoloring these beautiful images over and over. So naturally when
The Daily Marker's
30 Day Color Challenge started up again, I couldn't help but print them again and get to coloring. Personally I think everyone should color more! It makes me feel like a kid again and I just looooove to color.
Here are my cards I made this time with these super brightly colored sprites:
I colored the sprites with Spectrum Noir Markers and then fussy cut them out. I couldn't find a DPS that had really bright colors like them so I went with the next best thing from a huge Recollections pad I had. This particular DPS I think is in 5 or 6 colors in the paper pad so I think I may need to print more sprites and color them to match each paper color so I can make a whole set of these cards! They would make a cute gift I think.
If you haven't gone by
The Daily Marker
to check out the 30 Day Color Challenge then do so! You can join in at anytime and who doesn't like to color?? Check out her YouTube channel also, she has some amazing videos that shows beautiful techniques for coloring and card making.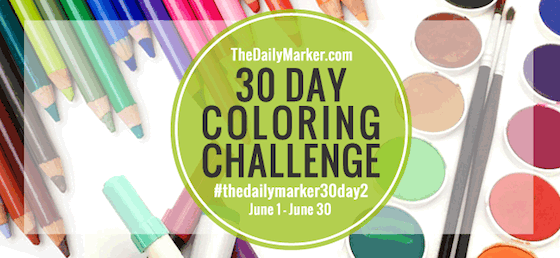 Challenges I'd like to enter:
Mojo Monday #400
Loves Rubberstamping #154 - anything goes
Pile it on #71 - Coloring
Inspiration Destination # 36 - anything goes
Sister Act #108 - Anything goes.